Introduction: From the History of Hair Extensions to How They Work
Human hair extensions are an important part of our lives. They can be used for many different purposes, such as adding volume to your hair or changing the color of your hair.
Hair extensions are made from human hair, synthetic hair, or a mix of both. The type of extension you choose depends on what you want to achieve with them – whether it is simply adding volume to your existing locks or replacing all of them with a new color.
They come in many different colors and styles. You can find them in natural-looking colors like brown and blonde. There are also neon shades like pink and purple that give you the option to experiment with new looks.
Hair Extension Techniques and their Impact on the Industry
Hair extensions are a trend that has been around for many years. Many women in different countries and cultures use them. This is because extensions for hair give people the opportunity to change their hair. No need to cut it off or color it.
There are several techniques then it comes to installing them. The most popular technique is weaving in the extension. It involves braiding the extension into your natural hair with a braid pattern. Remy extensions are also popular. They are 100% human hair which means they will not tangle or mat as easily as synthetic ones do.
Remy hair extensions are the most popular type of the product you can buy today for a number of reasons. High-quality human hair that makers collect from around the world. They also retain their curl pattern and bounce which means no more unhappy customers! What's more, Remy human hair cost slightly less than most other types on the market for a better price.
Remy hair stands the test of time the best. On a molecular level, a part of its construction is that the follicles grow in one direction: root to tip. Remy hair is produced through a technique that aligns the hair strands in the natural direction as they would grow. This ensures that it has a natural feel & texture that reminds people of their own hair.
In order to maintain the health of your natural hair, it is important to use keratin treatment for remy hair on your remy extensions every six weeks. This will help make sure that you don't damage your hair.
Types – The Pros and Cons of Each Type
Hair extensions are a great way to add length or volume to your hair, but it's important to choose the right type.
There are three different types: human, synthetic, and clip-in.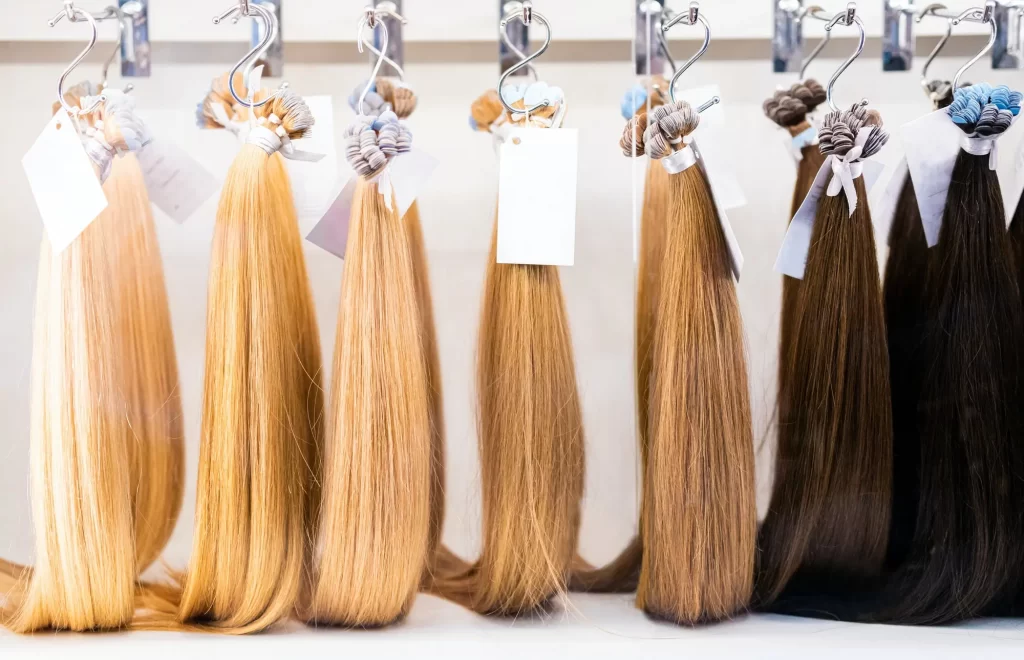 Human Hair extensions 
Human Hair Extensions are available in many different lengths and textures. They can be styled and dyed like your natural hair and they can also be curled or straightened with heat tools. The downside is that they do require more maintenance than synthetic or clip-in extensions because they need regular shampooing and conditioning to maintain their quality.
 Synthetic Hair extensions 
Synthetic Hair Extensions come in a variety of colors, lengths, and textures that mimic natural hair. They're also more affordable than human hair which is why some people may prefer them over the more expensive option. However, synthetic extensions do not respond well to hair coloring or bleach.
Understand Your Hair's Personality Before Choosing Your Extension Type
It is important to know what type of extensions you want before you get them. 
There are four hair personality types: Straight, wavy, curly, and coarser. The extensions for curly-coarse hair are the most difficult to find.
The curly hair extensions are the most difficult to find because they have a high demand but they are not manufactured as often. For this reason, it is important to know how to care for your extensions so that they last longer.
A good way to care for your extensions is by washing them every few weeks with a shampoo made specifically for extensions. You should also deep condition them once or twice a month with an intense conditioner that will give them strength and shine.
It is best to consult a professional stylist or to do your research online about the different types and their suitability for your hair type. 
Which Lengths Should You Choose For Your Extension Type?
Choosing the right length for your extension is important. Different lengths will suit different people and different styles. It's best to try out different lengths before making a decision.
Medium length curly hair extensions are perfect for people who want them to blend in with their natural hair. Curly hair tends to be much thicker than straight hair, so it can be difficult to find the right balance between volume and weight when you have long straight human hair extensions.
Conclusion: The Best Choice For You When Considering What To Wear
The conclusion of this article is that the best choice is to go with human hair extensions. The reason is that they are natural looking and can blend in with your natural hair. They also look better quality than synthetic.
 18206 Collins Ave Sunny Isles FL, 33160